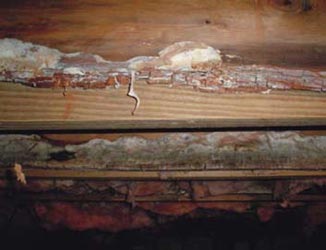 If you have noticed signs of foundation problems such as drywall cracks, doors and windows that are hard to open or close, cracks in your foundation walls, cracks in floor slabs, or cracks in brick and mortar veneer, you are probably dealing with a foundation problem that is caused by changing soil conditions around or under your home. Unfortunately, these problems do not get better with time -" they only get worse!
What Causes Structural Problems?
Foundation problems are normally associated with older homes; however Consumer Reports found that an alarming 15% of new homes had serious foundation problems. These problems were found to have two causes: 1) Poor construction and 2) Homes built on poorly compacted fill soils. It is safe to say that foundation problems affect new and old homes alike.
Structural settlement can be due to drought conditions, where over time, soil around the foundation dries and shrinks, causing the home to shift and settle. On the opposite end, during periods of extreme wet weather, the ground around the home can soften, again causing the home to sink or settle into the foundation soil. Overirrigation, poor surface drainage, clogged foundation drains and broken water lines can all contribute to saturation, resulting in structural problems.
Consumer Reports found that an alarming 15% of new homes had serious foundation problems.
Sloping or sagging floors may indicate problems in the crawl space area below. This is often caused by weakened floor joists due to excess moisture and wood rot in the crawl space, improper spacing of floor joist support beams, or settling of existing interior columns.
Why Should I Fix My Foundation?
Homeowners sometimes try quick fix solutions to repair the damages caused by foundation problems. A common repair is patching over drywall cracks on interior walls. While this temporarily solves the cosmetic damage in the living area of the home, it does nothing to stabilize the foundation to prevent it from happening again, again, and again. Repeated patching of drywall can be frustrating and unsightly!
Push Pier System
Helical Pier System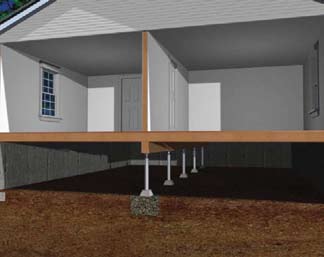 Smart Jack Stabilizer System
Another common fix that homeowners attempt is tuck pointing exterior cracks. This too is temporary, as the cracks will open back up as the problem continues. Repeated tuck pointing often results in varying colors of mortar that detracts from the beauty of your home.
Another thing to consider is the resale value of your home, since most people sell their home at some point in their life. You know yourself that you would be hesitant to buy a home with a structural defect, and if you did, you would not pay the asking price. The Real Estate Seller Disclosure Act requires these types of problems must be disclosed to potential home buyers. Realtors tell us that they have to discount a home with foundation structural defects 10 to 20% in order to go forward with the sale of the home. What is your home worth in today'™s market? Can you see that by not fixing your foundation, it is going to cost you much more money than fixing your foundation?
How Does A Homeowner Fix A Structural Problem?
There are proven solutions for each type of structural problem, and the cost is not necessarily excessive. Depending on the problem, piering and/or anchoring systems offer quick and permanent solutions for foundation defects. The SmartJackâ"¢ System also helps correct issues caused by inadequate structural design, weak or rotted foundation supporting columns and weakening of the floor system due to high humidity and moisture levels within a crawl space.
The decision to fix these problems permanently" is an investment in your home that makes sense.
The decision to fix these problems permanently is an investment in your home that makes sense and it will give you peace of mind knowing that your foundation has permanently regained its structural integrity. A Hilton Head Island foundation repair contractor can provide you with an expert consultation, a clear solution to your problem, and answers to all your foundation questions.
Lowcountry Basement Systems is a member of the Foundation Supportworks Dealer Network. To schedule a free foundation inspection, please contact Lowcountry Basement Systems at 912.927.7827 or visit www.LowcountryBasement.com.